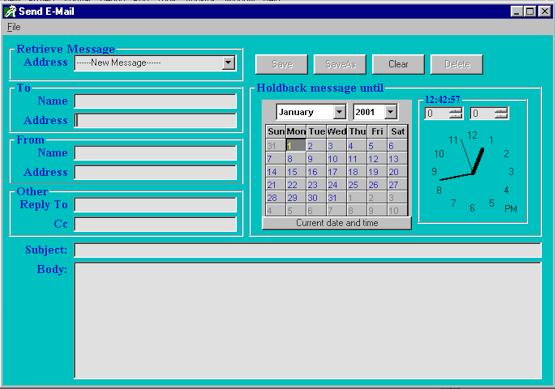 With Deferred E-Mail, you can write a message today and have it sent later on, at a specified date and time. Between the time a mail is created and the time it is sent, you can delete it, edit and update it or change the date & time at which it is scheduled to be sent.
Requirements
Deferred E-Mail runs on most PC's using the Windows 95/98/ME/NT/2000 operating system with a connection to a mail server.
Description
To create a new message, simply fill in the "To Address" and "From Address" fields. If desired, you may fill in additional fields. Finally, simply select the date & time when you want the message to be sent or the "Current date and time" button to send right away. Compose your message. When your message is ready click "Save" button. The message will be placed in a message queue and it will automatically be sent at the specified date & time.
When a message is in the queue, it can be retreived, deleted, edited and updated, copied, rescheduled, etc... Simply choose the message and perform the desired operation.
In brief
Deferred e-mail allows you to send yourself reminders, schedule and send follow up messages and organize your mail in a time lapse setup. With this system, you can create an e-mail today for scheduled delivery when you are busy or out of the office. You no longer have to consult your diary or personal information manager or remember to send an e-mail. Just schedule it and let the deferred e-mail agent send it for you!